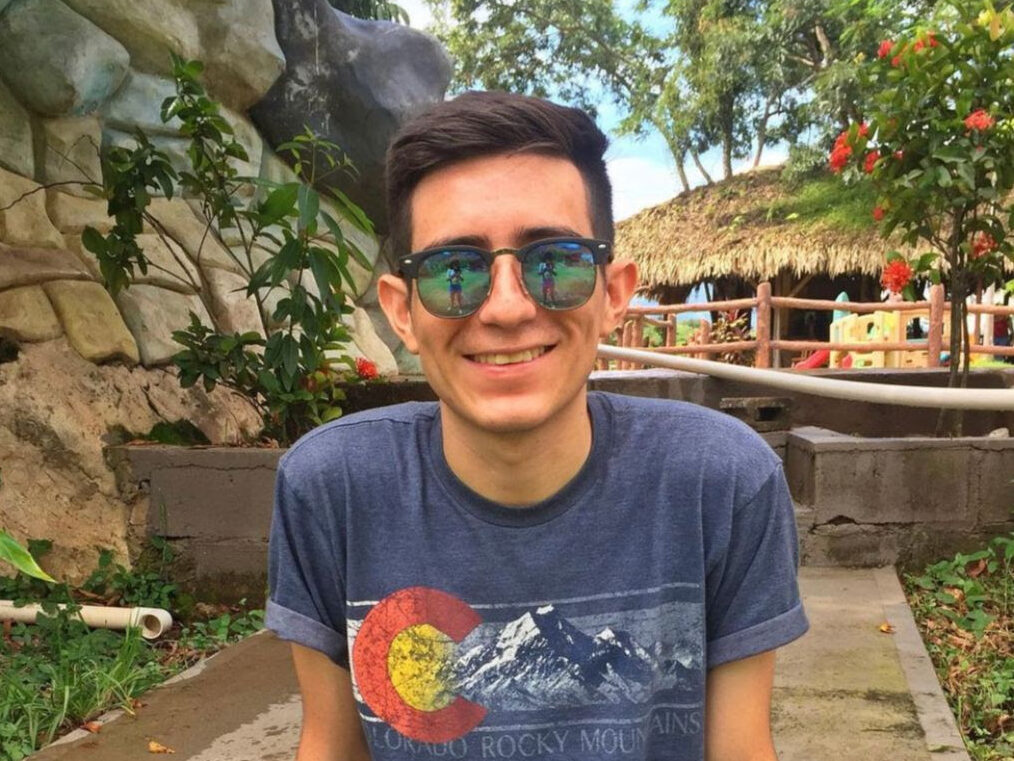 Our desire is that our Casa de Esperanza supporters would get to know the students that CDE supports and our Honduran ministry partners.

Our next student feature is Cristian Barrientos, a medical student at the Universidad Católica de Honduras (UNICAH). Let's get to know Cristian!
1. What's your major? How did you decide on this major? Are there classes that you like or don't like and why?

Since I was very young I said to my mom that I wanted to be a doctor when I grew up. Without a doubt choosing to study medicine was not an easy decision, however, I always felt the call from God to become a doctor. I always felt a passion for science classes at school, I was interested in, and I was very impressed to know how our body works so perfectly. Going out to help translate in many communities in my village also motivated me to study medicine.

I feel that there is a lot of need in my community and that studying medicine would give me the opportunity to help the people who need it most. Sometimes I hesitated because I knew that it would not be easy and because I would not have the financial support from my parents. However, they always motivated me and told me that God would open doors for me to continue studying. I am very happy to be studying medicine and I know that God will continue to give me the strength and much wisdom to achieve this dream!

I honestly like all of my classes, there are some that are more difficult than others, but I try to enjoy the process and learn as much as I can. My favorite classes are morphological classes. They are very difficult classes, but they teach me how perfect and powerful God is and how clever his design is.

This trimester, I like my classes on genetics and embryology. In embryology, we study the fetus from fertilization to birth. I was surprised to learn that a baby is shaped by two small cells and how they can inherit physical features from their mom or dad. I find this process fascinating and this motivates me to study.

2. What do you want to do after graduating from college?

This is something I think about almost every day. What I crave most is to return to my community and serve in the clinic. I also think about the possibility of having my own office and helping people who need it most. But I don't rule out the possibility of pursuing a specialization either. I will continue to pray and trust that God will guide me! Right now, I still need a lot of credits to graduate and try not to worry so much about the future, but about the present. I try to enjoy the process and take it step by step so I don't get frustrated or tired.
3. How did you come to know Jesus?

I knew Jesus from when I was very young. I grew up in a Christian family and my parents taught me about Jesus since before I can remember. My mom began working in the Abundant Life Church with Compassion International in 2001 and my brother and I were part of that program ever since. I always attended Sunday school and I learned a lot about the Bible and Jesus there. Later in life, God blessed me with the opportunity to study at Abundant Life Christian School, where I not only learned to speak a second language, but my faith was strengthened. Through school I matured a lot in my faith and met many more people who helped me grow spiritually. Teachers, friends, mentors and family were helpful and motivated me to know Jesus' way.

I accepted Jesus as my Savior at age 7 and it is the best decision I have made! Even though I did it at such a young age, I remember it very well. I did not know much about the meaning of this decision, but I have little by little come to understand it. I have gone through difficult situations that have discouraged and saddened me, but God has always been there. He is the one who fights my battles and who gives me strength. I have learned to trust God fully and one of the verses I like very much is Jeremiah 17:7: "But blessed is the one who trusts in the Lord, whose confidence is in him."

Accepting Jesus is a decision that changed my life for good. I am very grateful to God for having chosen me, for loving me unconditionally, and for having given his son to die for my sins. Thanks to this, I can say that I am saved!

4. Is there someone who you consider to be a role model? Why?

There are many people who I admire a lot. But like most people, who I most admire are my parents. Their courage, leadership, faith, strength, love for others and nobility. They are my reason for my being and they are the ones who motivate me to continue fighting for my dreams. I owe them what I am and what I have. Without them, I would not be where I am today.

I also admire the Suto family a lot. I had the opportunity to live with them for several months and they taught me a lot. They are an example of humility and a caring heart. They are certainly a very important part of my life and are a great motivation and inspiration.

Finally, my older brother, Allan. He is another person who serves as an example for me. He has modeled how to be a great human being and despite being away (in the US) he always motivates me and gives me words of encouragement!
5. What is your biggest dream?
My greatest dream, as I mentioned above is to have my own office, to serve the community that gave me everything, and also to devote time to the service of God. But beyond that, I would like to leave my mark on this world. I want people to remember me for good things and others to see me as an example of overcoming and humility. I don't say this for vanity, nor for pride, I would simply like to be remembered for my good works and for my example to help other young people seek God and pursue their dreams. We all have a purpose to this world and I do not want to leave without fulfilling it.
6. What is your favorite food?
I have many favorite foods! I really like baleadas, this is the most popular food in my country and I would definitely eat it every day if I could! I also like pizza, lasagna, and desserts such as cheesecake, lemon pie, and tres leches cake. I'm not a person who eats a lot, but if I had these meals, I would eat them every day!
7. If I could travel to any country in the world, where would it be and why?
I would like to visit Brazil. It seems like a very nice country, full of culture and culinary arts. My favorite place to visit on vacation is the beach. I like the heat, the sea, the food, the sunsets, the blue sky very much. I have heard that Brazil has some of the most beautiful beaches and I would love to visit. The language, which is Portuguese, also draws my attention. Last trimester, I took a class and learned a few words and phrases. Some of my favorite soccer players are also from Brazil and I would like to go and enjoy a match.
I also dream of traveling to Israel. It is one of my greatest wishes and I pray that God will give me the opportunity to visit the places where Jesus walked and preached. I have seen many videos of people who visit Israel and it is a beautiful country. I would love to visit places like the Dead Sea, the Jordan River, the Sea of Galilee etc. I have faith that someday I will be in these countries sharing my story and testimony.
8. What do you like to do in your free time?
In my free time I like to listen to music. It relaxes me a lot and distracts me from the things I sometimes stress or worry about. Music is like therapy and it gives me a lot of inner peace. My favorite band is called Lany and I hope someday to be able to go to a live concert. I also like Hillsong and Bethel music.
In my free time I also like to play any sport whether it be soccer, basketball or volleyball. They are my favorite sports and I played all three during high school. I also like spending time with my friends. We like to reminisce about times at school when we were young. I also like watching movies on Netflix.
Thanks for reading and getting to know Cristian! We would not be able to provide opportunities for our students without the support of our donors. Thank you!